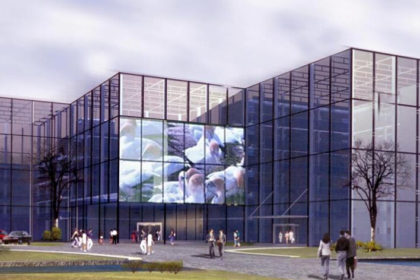 With the rapid urban development, every city has its landmark building because buildings are the important beauty carriers of a city. More and more high-rise buildings are appearing continuously. As a result, led displays are used more on buildings.
Throughout the market, China's architectural glass curtain wall has taken up a great market share in just 20. At present, China's annual covered area of glass curtain wall is approximately 5 million square meters and is constantly spreading across the world.
It can be proved from the data. The relevant information shows that the total area of the global modern glass curtain wall has more than 100 million square meters, and its market potential is enormous. Due to its creative displays, the main restriction on the development of transparent screen is its customization. Because the product cycle is relatively long, the large-scale production is difficult, and the amount of transparent LED is still relatively small; however, the market demand is very large. The "Displaybank", a survey agency in the United States, predicted boldly about the transparent LED, "By 2025, the transparent LED market value will be about $87.2 billion." It shows that the LED market has a great potential.
The potential of glass curtain wall market will urge the LED display industry to increase the input to the transparent screen production, accessing to market profits, which will also be conducive to the rapid development of transparent LED. In addition, with the current urban aesthetic construction, the assessment for the requirements of the LED displays is also increasing, so the application of transparent LED will also be helpful to grade urban aesthetic and publicity effect.
Although the transparent LED is indoor product, but its main use is outdoor display. For the LED display market, the strong demand of outdoor market is unmatched comparing to other market segments, and the large outdoor demand for glass curtain wall of is also a symbol for LED display demand.
It is known that the outdoor advertising market is the basic market for LED display. today, the market demand for outdoor LED display is creative display, product transparency and appearance beautification, but no longer in the traditional display stage, and transparent LED meets these demands. Besides, it is inevitable that the outdoor LED display need to be assessed regardless of its large application market. It is not only impossible for LED display enterprises to complete the project structures because of the rigid outdoor large-screen audit system, but constraints the LED display development. Therefore, the advantages of transparent LED is more prominent.
For more detailed information, please visit: http://www.concreled.com