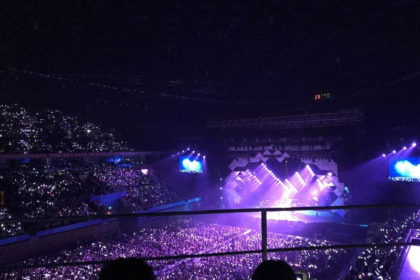 On the night of August 26, 2017, reviewing the old classical songs, feeling the power of rock, the famous Chinese artist Wu Bai and ChinaBlue Orchestra live performances, has become one of the classic in Chinese music world which everyone can not miss.
The scene picture of LED display.
It was an honour for Concre was honored to work together with the organizers to create this visual feast, the selection of the P3.91 LED rental LED screen, multi-screen design, high-definition, excellent display effect; low brightness display uniform gray, showing a good consistency ; When the overall brightness was adjusted down to 20%, it could still achieve perfect gray performance. Under the dark night, the stage showing the effect of layers of layers, the real three-dimensional space to enhance the three-dimensional sense of reality and realistic, realistic and beautiful form, so that it showed the stage tension well.
Strong with their own ability to identify the concert, and how to make it different from others and direct artistic effect on all people, this is a vast project. Perfect stage effects and fluent performance are the final destination of rock. The right light, the appropriate color, showing in the LED screen, bright and dark pavilions, a stronger sense of space, so all audiences' thoughts are ups and downs.
The stage of infinite possibilities, the stage of infinite wonderful. All the time, the stage performances has a wide audience, high requirement, combined with the use of the stage, Concre LED rental screen fully considered the audience anger of view, and constantly expand the LED rental market depth and breadth, with a variety of high technology, to create a dream word of dancing.
Now, Concre supports a large number of concert projects. Concerts and other stage performances have higher requirements on the led display , such as refresh rate and easy assembly, also it can not appear black screen. With dual signal and dual power redundancy technique, Concre rental products provide a perfect guarantee on the performance occasions.